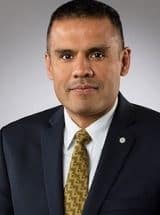 As of January 3, 2019, Gerardo Almaguer will be taking the title of President and CEO of Développement international Desjardins (DID) in replacement of Anne Gaboury, who had expressed an interest in exploring other opportunities after 16 years at the helm of DID.
Mr. Almaguer has had a long international career spanning almost 20 years and gained a deep understanding of DID, which he joined 12 years ago. For almost four years, he managed the Entrepreneur Financial Center set up by DID in Panama. He also led the Project to Support Colombia's Agricultural Finance System (PASAC) in Colombia and carried out a variety of other assignments within the organization. Two years ago, he became Senior Director, Agricultural finance and Food security. He has extensive knowledge of how community finance institutions work and is well versed in the issues surrounding both agricultural and small business financing.
Congratulation for the new President and CEO, from STEP!
(Source: DID)