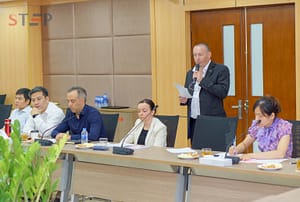 On July 2, 2019, STEP held a meeting to launch the deployment of the PRMS software system (People Credit Fund Reports Management System) with the participation of the Co-opBank' and WIN joint venture (Will Be Solution Vina & NGV).
This kickoff event is an important milestone marking the nearly 1-year journey of preparation for the identification and characterization of the MIS system that will reinforce the Co-opBank as an apex institution and actively support it in its risk monitoring role of the operations of the PCF network.
Mr. Claude Lafond – STEP Project Director and Mr. Nguyen Thac Tam – Deputy Director of Co-opBank – STEP Co-Director thanked all STEP experts and Co-opBank officers for their participation and contribution to the project and expressed their best wishes and hopes about the success of the project. They reiterated their confidence in the newly established partnership based on Will Be Vina's and NGV's respective experience in implementing a data warehouse for the State Bank of Vietnam (SBV) and good understanding of the operational environment of the PCF network. On this occasion, Ms. Youn Jung Park – Director of Korea Information Technology Cooperation Center (KICC) under the National Information Technology Promotion Agency (NIPA)part of the Ministry of Science and Information Technology of Korea personally expressed her congratulations and confidence in the success of the project amid the deep cooperation between the Vietnamese government and the Korean government.
The PRMS development project will last for 6 months and will be deployed for the head office and 32 branches of the Co-opBank throughout the country.