Mr. Chao T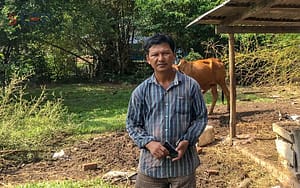 on, Khmer minority, is a member of Binh An People's Credit Fund (PCF) in Kien Luong district, Kien Giang province.
He owns and runs a small grocery store to earn living for his family. He saw some opportunities to generate more income but it was difficult for him to get a loan from the banks where he could only receive a small loan, just enough to build a clean water sanitation facility for his house. End of 2018 he was informed about that Binh An PCF is now offering non-collateral business and agricultural loans for small business householders like him. Therefore, he applied and successfully received a 40 mil VND loan to expand his business and agricultural production. With this loan he can buy and raise cows as well has more cash for expanding the grocery items for his store. This helps keeping his customers in the commune. His business has been running well for 6 months now. His herd of cows is expanding. Furthermore, he could build a small storage room for the groceries in order to cover better the needs of the commune people.
For 6 months, he paid back almost half of his loan. For him, Binh An PCF is always a good address in the future not only for loans but also for good advices in financial planning and agro-business consulting.