Tuesday, August 6th 2019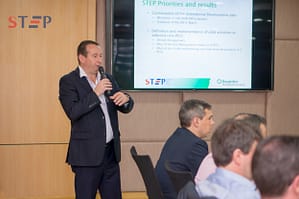 , the Project Steering Committee (PSC) of STEP has met for the second time since the beginning of the project.
Representatives from GAC, SBV, Co-opBank and DID-STEP attended the meeting. Mr. Jared Brading, Head of Development at the Embassy of Canada to Vietnam and Mr. Nguyễn Đức Dũng – Deputy General Director of Co-opBank co-chaired the committee.
Mr. Claude Lafond, STEP's Project Field Director reported to the PSC the results and activities of the project in the previous year and proposed the annual work plan for 2019-2020. The representatives of Co-opBank emphasized the achievements of STEP until now which builds the basis for the deployment and implementation of the developped solutions. The PSC discussed and agreed on the annual work plan 2019-2020 of STEP which will focus on the 5 priorities, namely:
Development and implementation of the Management Information System (MIS)
Implementation of Risk Management Tools
Deployment of new financial Products and Services and credit methodology
Organization of a second Study Tour to Desjardins Group in Lévis and Montréal, Canada
Incorporation of Gender-related activities into project activities
The PSC meeting is an important event that will lever STEP's interventions in the deployment and implementation phase.